6/13/2019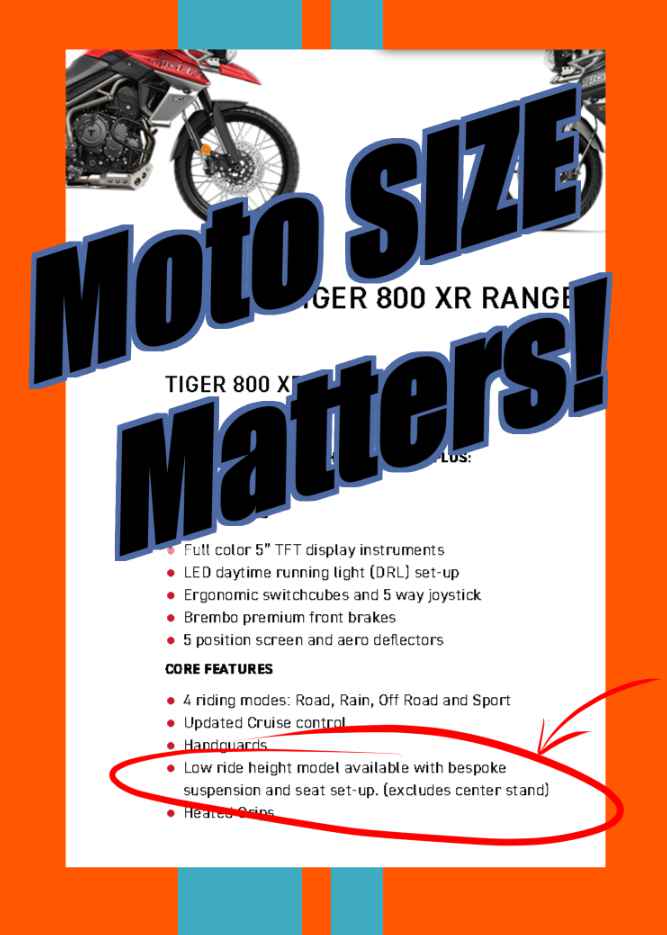 On to more inappropriate MOTOSQUIRREL groaning!
Dual-Sport is such a huge subject, hence, there's not enough space and time to cover so many of the great and not-so great company offerings both in legacy production as well as in newer design.
There is sort of a mixed bag of happenings within each major manufacturer when it comes to bike size, adjust ability and customizable accessories offered etc.
First on the list is Kawasaki. As mentioned above this company has to be commended for their recent attempt at rider fitment and there newer Ergo-Fit program for the Vulcan S. That said, we are talking about a very basic cruiser design where it is not that difficult to offer larger seats, reach back handlebars and adjustable or better placed foot pegs. In a low design such as this is not that difficult to accommodate larger seats and peg placement when the only directions that a designer has to worry about is going more upward backward or forward while the rider triangle is cocked somewhat backward (Just look up a million years of Harley Davidson designs and customs!). But when the overall engine clearance has to be of a certain height as in that of Dual-Sport riding things get a little trickier! How can a mechanical designer or product designer and engineers go about crafting a multipurpose motorcycle that has massive clearance, suspension travel, adjustable ride height, the ability to ride while standing on the pegs, allowances for both standing and sitting stances as well as accommodating possible pillions or bags? Better yet….how do they create a design that is changeable, malleable according to the needs of a rider(s) by it's adjustability, accessories offered or by the altering of a motorcycle's actual dynamics (Getting to that in a moment)?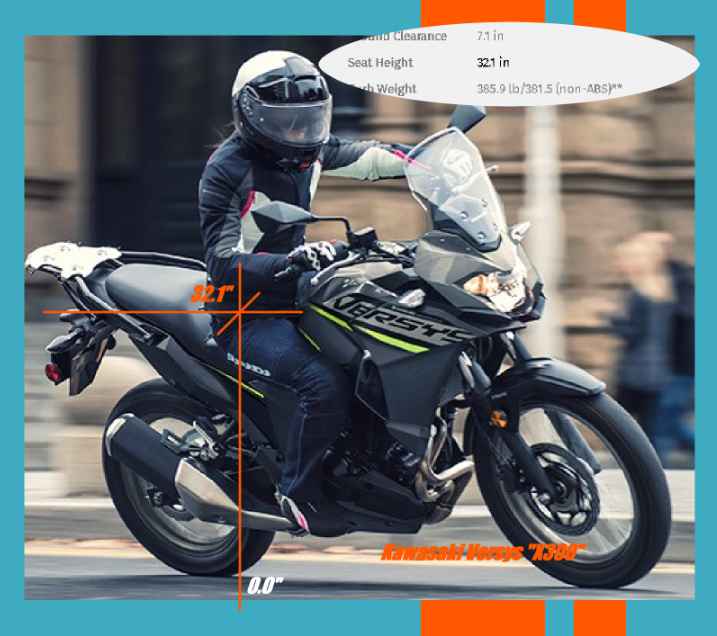 These are NOT easy tasks, AND to be fair to the designers of the past as well as an ever demanding customer base of riders who are lacking in mechanical skills of today……..successful attempts at meeting the different physical requirements/needs of the customer WERE met and articulated in both the past and are now currently.
Enter the venerable and legendary Suzuki DR650 (I am not worthy). This super stalwart and foundational motorcycle of all things Dual-Sport was always adjustable! Suzuki has offered this model with lowering accessories such as a mechanically switchable shorter swing arm bone, the possibility to lower the front forks as well as a lower seat option. All of these options can be installed by the dealer and can lower the bike a good inch or more when being purchased the first time. How's that for been there, done that! Suzuki has always been in the habit of setting new standards when it comes to making motorcycles easier to ride, but not always when it comes to rider comfort or rider triangle adjustability. An example of this type of tweaking is their recent low RPM no clutch assist. Also their one touch engine start on many new bike models is a breeze!
But just as the saying goes "It never pays to be original", it should also be said that it never pays to keep an old original idea grandfathered in forever!
Both the Suzuki DR200 S and the Yamaha XT250 have been running the Dual-Sport small CC' segment for quite a while. The Yamaha receiving some very good upgrades in recent times including a more modern LCD display as well as having a rear disc brake and short seat height at 31.5″. Although these bikes are sometimes disparaged as the "Dual-Sport Wife's Bike" in the U.S., throughout the world all folks of age, shape and size have and do use these incredible machines for work, commuting, adventure, farm-hand help and just plain fun!
Enter the Suzuki DR200S. This model has NOT changed for years! It is a small displacement Dual-Sport motorcycle used throughout the world! In so many ways it doesn't need to change. But many of today's riders are demanding conveniences, niceties, gizmos and comforts that these old models no longer offer. Whether due to emissions restrictions, Euro 4 standards, tax exemptions or grandfathered-in import licensing arrangements, great builders like Suzuki are not quick to change old and well selling machines such as the DR200S.
What we at MOTOSQUIRREL wish they WOULD do until the time for major model changes and launches is to offer some of the qualities/abilities that the big DR650 offers in a smaller package, i.e. adjustable ride height via suspension lower, seat height changeability AND why not offer bar risers or shape changes etc.? (We realize that all the Die Hard off road dirt lipped people are laughing when they can reference a million aftermarket parts for these bikes….but we are talking about off the floor puchases without much mechanical investment here) Look at the height differences between the DR200S, the Kawasaki KLX250 and the Yamaha XT250 and you will quickly see which company is offering a lot of rideability out-of-the-box! (See inserted graphics).
Back to Kawasaki ……..(You are NOT off the Hook BIG GREEN!)
OK, two years ago you introduced a very well thought out Dual-Sport (We should start a new category called All-Sport! We tire of "ADV") in response to smaller or newer ADV riders or riders who have had all of the "Big Boy" bikes and realize their huge limitations when on real outland Adventures. We at MOTOSQUIRREL recommend visiting CSC Motorcycles RX3 and RX4 as well as viewing the "Bike Show" BMW G310GS vs. F800GS vs. R1200GS Part 1 here. Let alone the multitude of accounts of adventure riders who have ridden the world on mid-sized or smaller ADV bikes, enough said! Kawasaki responded in a focused way with there Versys X-300. This 300cc mini-wonder bike based off the Ninja 300 sportbike is a God-Send for those looking for an agile all-rounder as commuter during the week and gravel or fireroad finder on the weekend.
Here is the BIG BUT! BUT Kawi! Why doesn't this new all-welcoming wonder bike have all the options or at least a lower seat height option much as the Vulcan S? What gives? How about a higher seat option for that matter and bar risers? A 32.1 in seat is great….,however, why not also offer a lowering option for the truly small rider AND upgrades to outfit this bike as a more real off-road option for those who are ready to take it there (See Honda CRF250L Rally)! Also, many of us were hoping that the fine folks of Team Green would bounce up the CC's with the company's recent introduction of the Ninja 400 (Very cool bike) and the Z400. This engine BEGS to be given grunt and SHOVED into the Versys X!(Highway much Kawi?)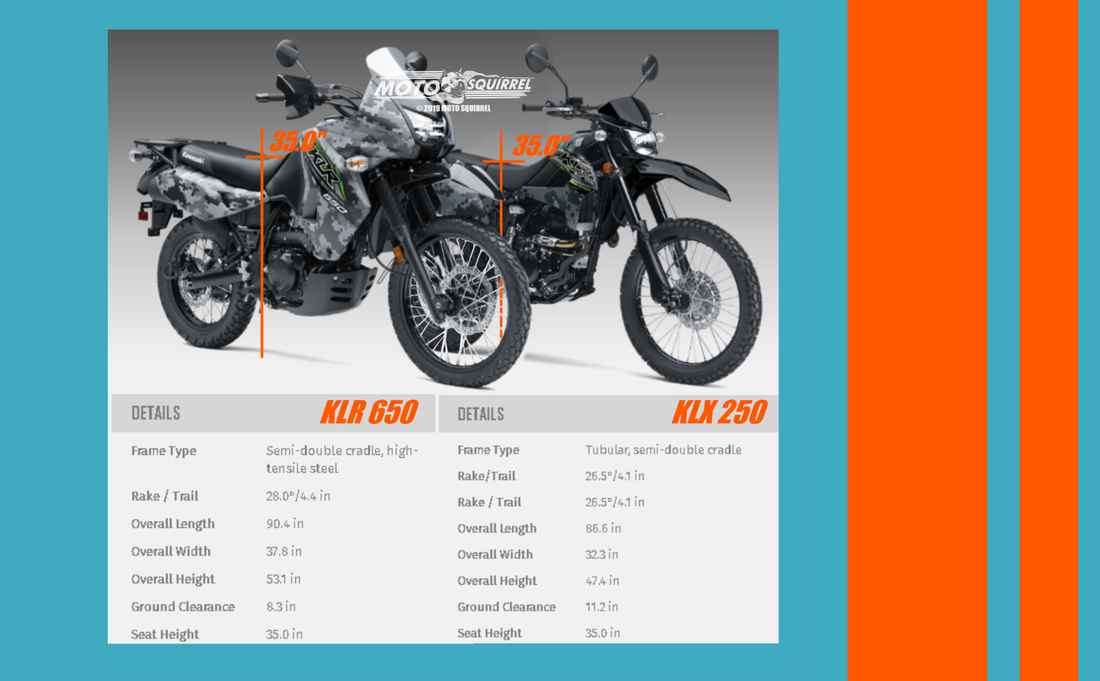 To close out our bitching at the very fine Kawasaki Heavy Motor Industries Group (Sorry Greendom- We still love you), you are elliminating one of the most iconic motorcycles of all time (Future article on this – promise), namely, the mighty KLR 650 and without a true Dual-Sport of similar size to replace it…..we, the riding public, are left with the more road oriented Versys 650 (A versatile powerhouse BUT not exactly dirt anything!). What is a new, returning or an experienced ADV rider who is turning her/his back away from BIGGER is better bikes to do (The KLR was definetly a tall beast but we will address this)?
If you look at some of our MOTOSQUIRREL graphics you will quickly see that the Versys X300, Versys 650 and KLX 250 are all above 32 inches. With very little adjustability "Built" in. What if we want a Versys 300X with a slight bit more leg room? What if we desire a 600cc class Dual-Sport that is approachable and customizable over time? Most riders abilities grow as they do more real dirt riding and eventually require more ground clearance etc……where are dirt guys/girls seat options darn it! (Oops now we sound like spoiled millennials!).
What we are trying to relay here, Lord Kawi, is that HERE is your opportunity to take BACK the aftermarket! One online query will prove, due to the KLR's success, for example, there is a world of forever deep aftermarket accessories available for the dirt or ADV market attending this model. Since the KLR sort-of cannot be engine updated (Restrictions…restrictions), why not design a newer more ADV oriented Versys as a rougher version of the current offering. Add in a more articulated rear suspension and (Perhaps) a more techno-rough (See KTM 790 ADV R) swing-arm plus ……wait for it……many adjustable parts which cater to ergonomics, riding style or for differences in intended use as included (Not smartphone speedometers). Sort-of a UniVersys 650! One for more road, the other for more off-road.
Stay tuned Motosquirrels for installment number three of this series where we will review how important and unimportant things such as seat height, bike weight and rider comfort can be as well as the very cool design madness of KTM and their new 790 ADV ……see you soon!