MOTO SIZE MATTERS!
Have motorcycles begun to get taller again?
(Part 1 of a 3 part Series Titled: Moto Size Matters!")
Were the last few years just a manufacturers tease?
We here at MOTOSQUIRREL were most recently contemplating these very important questions!
​
For all those riders who are endowed with a towering physicality, we salute you.… But you're welcome to skip this article for now (But you really shouldn't)! For the rest of us more normally statured riders, let's dig in and pay attention!
The focus here (as always at MOTOSQUIRREL) is to address the very real and not so technical aspects of motorcycle riding, achieving better rider comfort, as well as gaining better skills. This is NOT just another product launch page.
Many of us who were learning to ride here in the U.S. in the past decade have made many suggestions to local dealerships, motorcycle manufacturers as well as online retailers about the need for bikes and equipment that fit the needs of ALL sizes of people.
We realize that it is impossible for most companies to make their products in a range of sizes to fit everything and everyone due to the very real lack of profit motive to do so, i.e. the Meta dictates of vast market research and the general needs of all manufacturers to stick to a tight budget. Nevertheless, we here at MOTOSQUIRREL think that many Moto Brands got some 'Splain'n' TO DO!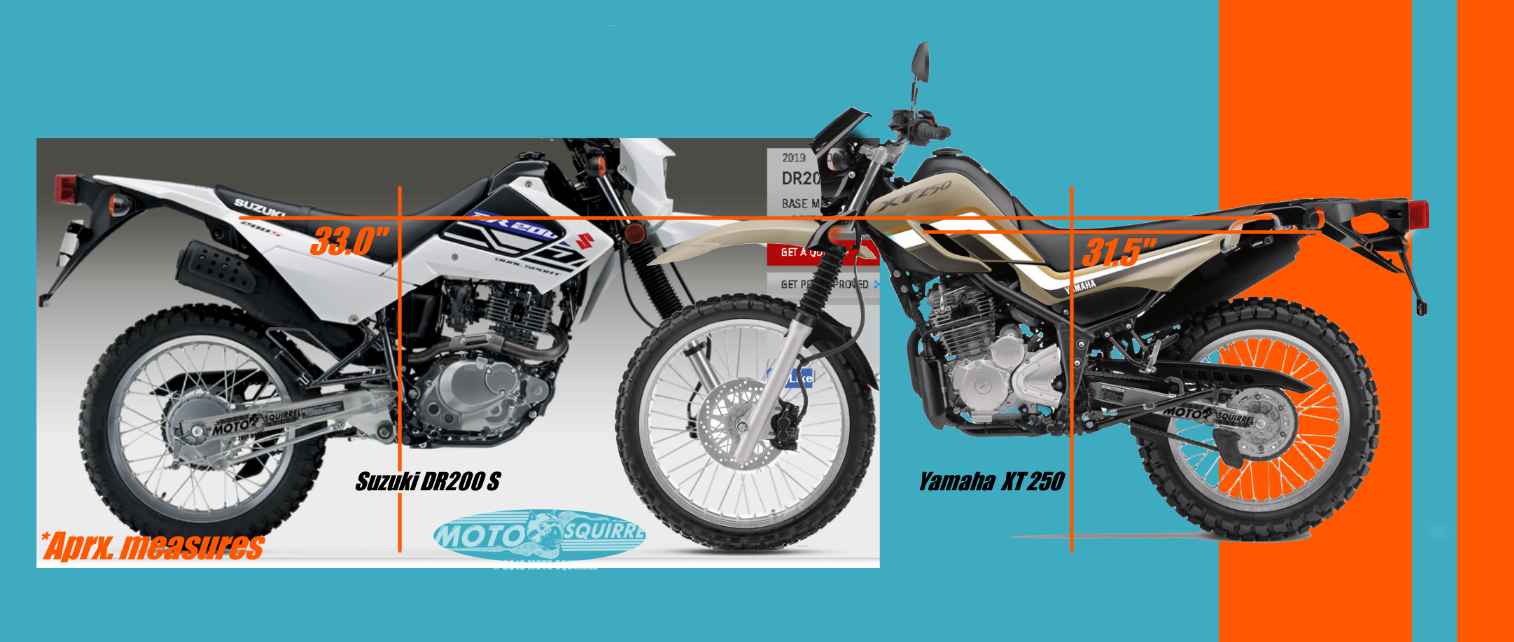 Both the Suzuki DR200 S and the Yamaha XT250 have been running the Dual-Sport small CC'd segment for quite a while. The Yamaha receiving some very good upgrades in recent times including a more modern LCD display as well as having a rear disc brake and short seat height at 31.5″. Although these bikes are sometimes disparaged as the "Dual-Sport Wife's Bike" in the U.S., throughout the world all folks of age, shape and size have and do use these incredible machines for work, commuting, adventure, farm-hand help and just plain fun!
Just as the new technology era made anticipated promises to our world of a new and ever reaching way to communicate, so did it also promise an endless way to design and build in the most innovatively detailed and efficient means possible. Example: One could argue that, at this point, if a customer wanted to pay, perhaps, a little bit more for a manufacturer like BMW to pseudo -custom ( Bespoke for the Blokes) build a bike to fit an individual's specific physique -It WOULD or SHOULD be entirely possible. Albeit at an extra cost or at an extra wait-time penalty. This type of production would definitely have to be limited to changes that stay within the confines of the original product/design.
Back to Reality…………
So………what is a Motorcycle manufacturer to do? We have an ever growing population of salary earners in the east, a growing number of women riders in the west as well as a burgeoning group of younger-than-Millenials (Who are already bored with their "Smart" phones) and….THEY WANT BIKES!. All the above mentioned are generally of a smaller stature (Whether due to ever changing national, cultural, heredital, nutritional or other influences- which are BEYOND the scope of this article!), or are in need of motorcycles that are delivered with a customizable shorter seat height, approachable rider triangle and/or handlebar reach range.
Before we get into our Groaning and moaning, we wanted to spend some time acknowledging the changes and challenges that many builders and brands have already made! Extreme attempts to meet the sizing needs of smaller riders, newer riders, returning cyclists and especially those bikers who prefer smaller, changeable or more agile mid to medium sized motorcycles are plenty and noteworthy.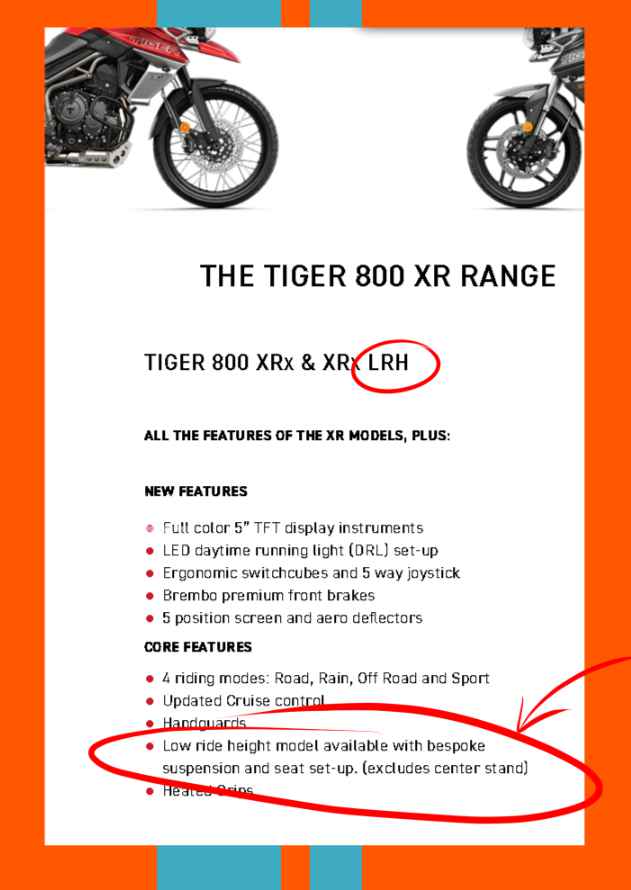 In just the past five years alone, brands like Triumph, BMW and Kawasaki have started to offer model specific designs meant to engage riders of all sizes, OR bikes that are ready-to-ride for smaller riders like that of Triumphs Tiger 800 XRX "low ride height" friendly LRH (Overly complicated naming conventions on the part of Triumph makes looking up their bikes that much more difficult-KEEP it SIMPLE Triumph!!) this mostly all-rounder bike by Triumph will surely get all sizes of riders into the ADV groove!
We must mention the "Ergo-Fit" system recently introduced by Kawasaki that enables a probable rider of their Vulcan S or S Cafe model the opportunity to retro-fit optional foot pedal placement, handlebar reach and seat height and length as well. This kind of from-the-dealer attention and proper fitting must be commended! What is great about the Ergo-Fit system is that it is scalable both up and down. Whether you are shorter-legged but longer in the arms, vise-versa, tall with a short inseam or, perhaps have other physio issues which might necessitate a single modification, well it COULD and often does mean the difference of whether or not a rider will be comfortable, confident and able to handle this model effectively or not. (It also must be noted here that offerings of simple mods like these are not only to garner more customers, introduce bikes to new riders or to even adapt to ageing riders etc. Many motorcycle 2nd party sellers, wholesalers, accessory manufacturers- even upholsterers! have benefited for years in offering aftermarket bike parts for trusty steeds in dealership line-ups. The manufacturers are attempting (Especially Japan) to get in on this action as bike-units sold numbers are lower recently in the West. Hey!- Why not be like Harley and offer anything under-the-sun for your Vulcan!?)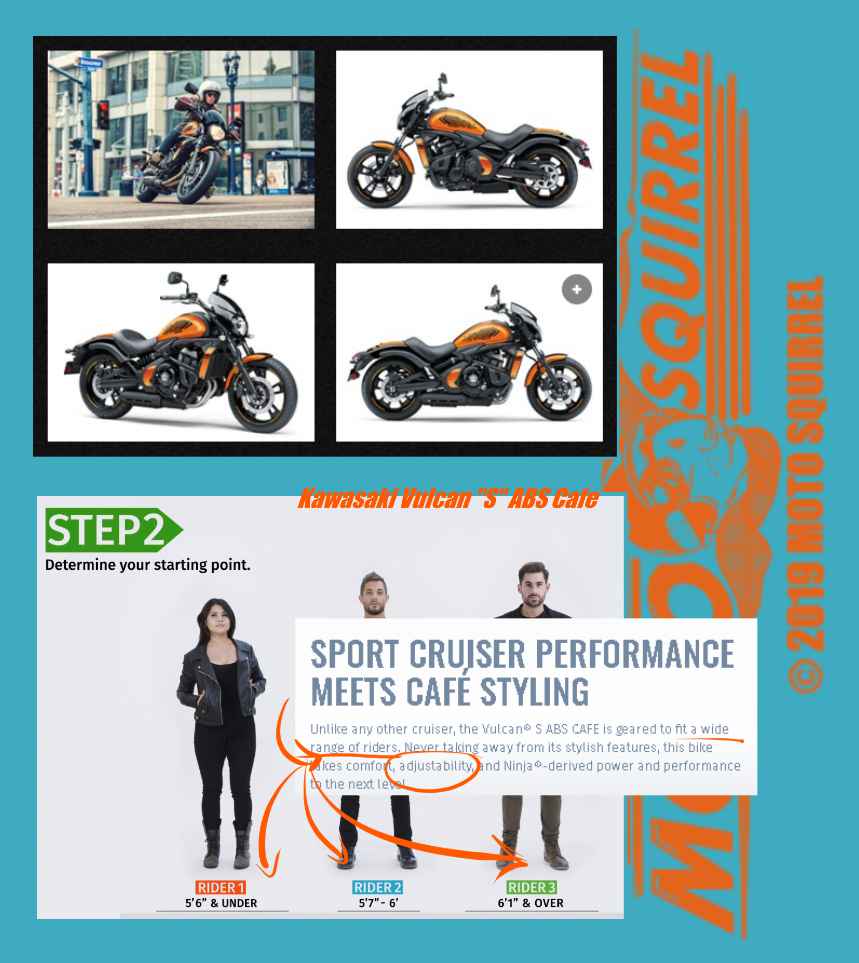 Here comes our love/hate bias when it comes to BMW! Although this company has been producing behemoths of metal for Off- Road use for what seems like a billion years.…. More recently, well let's be fair, about a decade ago this Bavarian brand started to offer shorter height seat options as well as suspension lowering setups for some of their midrange ADV adventure class motorcycles.
There are plenty of examples of how the industry is responding to a customer that is changing, a demographic that is on the move and ever demanding. To attract new customers it seems that company marketers, designers as well as engineers are flipping over backwards to apply any and every latest electronic gadget on their two wheeled wonder machine! All of these technological gizmos are wonderful toys to behold, but if a buyer cannot operate the motorcycle or feel comfortable on their bike….well…let's just say they may be standing there in a garage with a new bike while playing with a tiny screen. Motorcycles were meant to move and accomodate people moving on them!
​BUT! The big BUTT! Are manufacturers slowly sliding back to their old make'm and let'm ride them just the way they are ways?
Let's take a look at a few more recent examples just to get started!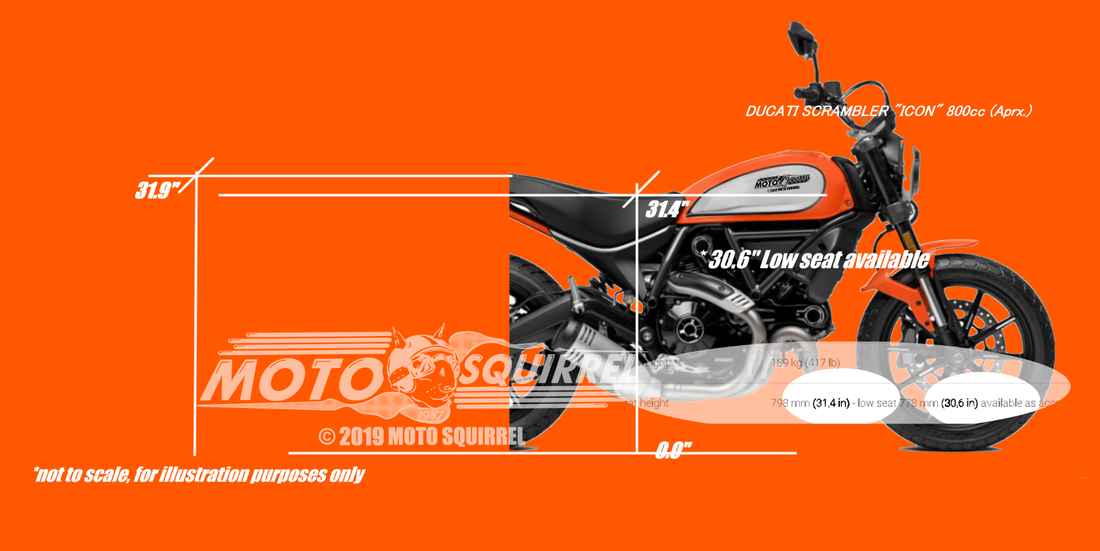 The Scrambler Icon 800 is an incredible little bike with tons of versatility and fun built in. This mini beast runs on a Duc L-Twin Desmodromic distribution, 2 valve per cyclinder and is "Old School" air cooled! It has 73hp @ 8,250 rpm, 49 lb-ft (67 Nm) of torque @ 5,750 rpm, weighs a mere 417 lbs. wet and….wait for it, has a seat height of 31.4 in (798mm) as well as having a LOW seat @ 778mm or (30.6 in.). Like 31.4 isn't low enough!
Ducati, the premium Italian sportbike maker, reinvigorated itself as well as influenced the Moto industry when it launched its scrambler lineup. This cute almost demure and classically designed future retro bike took the industry by storm and is their number one marque. This motorcycle has many benefits and attributes that would attract all kinds of riders. Introduced in 2014, this well designed marvel came in different flavors such as cafe, sport-bike and even a would-be styled "Enduro" model- this original group aimed to please. But the most stand out feature that often gets disregarded, is the scramblers approach ability. Because of its small and practical size as well as curved shapes, a low seat height and easy rider triangle, this bike is like that of the rover mini of the car world. It is fun, easygoing and very fast when you want it to be and it also welcomes lots of different riders physicality (Albeit a bit small for riders above 6 ft. tall).
​Most who ride this bike are impressed with it's power-to-weight ratio and handling. The seat height on these little beasts (Excluding the Desert Sled model) is a very approachable 31.4 in. and a low seat is available at 30.6 in. The stand-over is decent with a pretty thinly profiled transition to the tank. Most riders agree that this bike betray's it's engine size with it's smallish chassis/frame body presence. It just looks and feels small.( Note: We here at Motosquirrel ARE NOT in any way advocating for reduced sized or for regularly sized motorcycles of all types to be made smaller, on the contrary,- we appreciate when manufacturers stay faithful to the size and proportions of motorcycles according to their purpose, i.e.: nobody wants a tiny wimpy cruiser or a a two-up tourer to be made tiny. Absolutely not! But we want manufacturers to start creating a bit more flexibility in the fitment available with bikes as purchased to accommodate for different types of the human body, even if that means (As many bigger riders do) making it a bit easier for a BIGGER rider to feel more comfortable on, say, a cafe type etc.)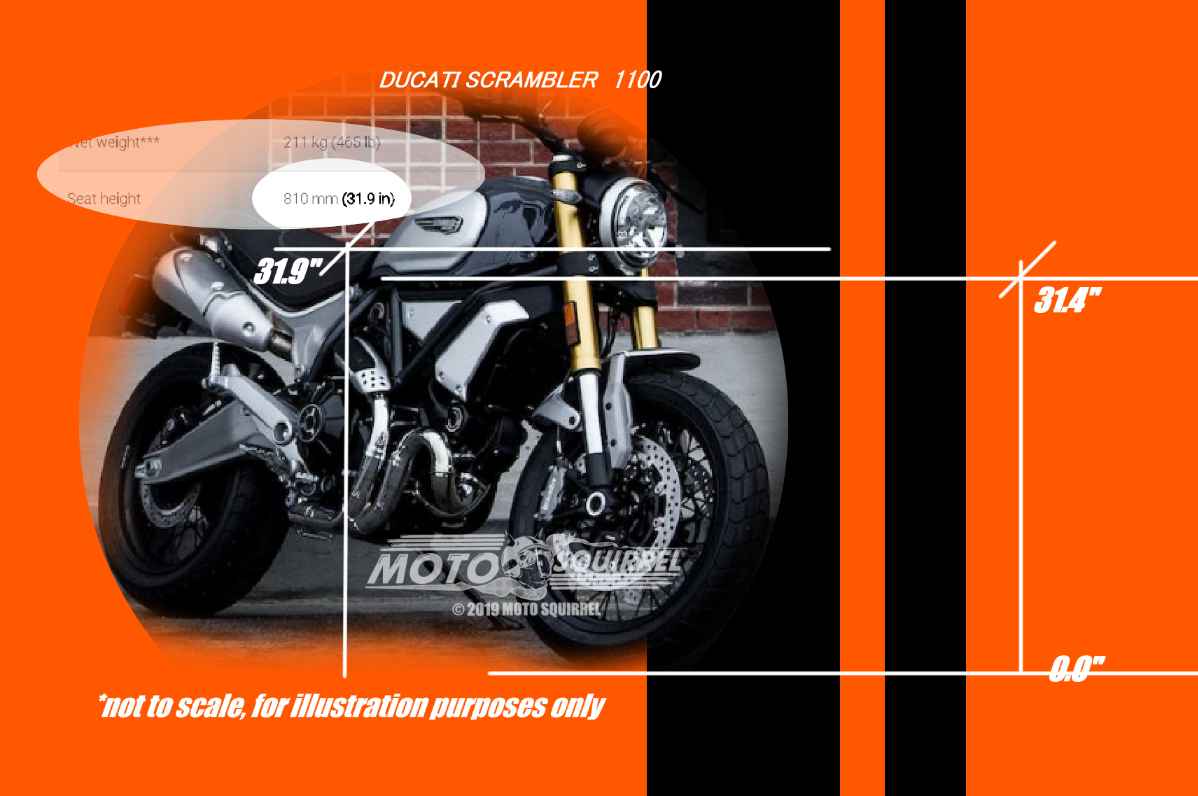 Just when you thought everything was happy in it's happy-place………umm nope! Big Duc introduces the new Scrambler 1100 in 2018. This is a bigger, badder version of the more recent and best selling scramblers of the 800cc class.
At 454 lbs. wet weight, 65 lb-ft (88 Nm) of torque @4,750 rpm, better brakes (There are three model options in this class) and a Ducati Monster-ish stance, one could argue that it is LESS the Scramblers big brother, but more the Monster series less aggressive sister. But the point here is to mention that the bigger CC'd Scram grew taller!
We at Motosquirrel ask why? (See the posted illustration comparing the seat heights- Aprx.). With, albeit a hefty L-Shaped V-Twin, it does argue the Design Engineers freedom to set this engine low enough to retain the original seat-height of it's little siblings. We are all for making this bike a bit more stout, but where is the need to heighten the seat? We think many a would-be buyer of Scrambler 1100 may be turned off by how high it got. If Ducati wanted to create a hierarchical Scrambler series with the 1100 at it's top, it begs the question whether the company is ignoring the very reason that many buyers bought into the Scrambler series to begin with? If Ducati's marketing department are expecting the 1100 Scram to be more of a "Fun-Bike" for their more expensive buyers who don't wish to be smiled at on a smaller steed……..well ….the Scrambler concept (as in the 60's) was founded on a smaller more versatile bike originally. Rather than kowtow to higher end buyers (If indeed this is the case with the Scram 1100), why not feature older or more experienced riders (Once in a while) as second photo shots in their advertizing for the standard Scrambler series? Not to scare off the youth, but rather encourage more experienced riders to "Let their hair down" and have some fun! Italian bike style! This way they could open up a space for an Italian standard Bonneville type bike with a larger engine as the Scrambler 1100 has with an easier going seat height or with adjustability built right in. In our opinion the 1100 series is much too serious a machine to wear the Scrambler badge! So….are Ducati Scramblers getting BIGGER? (We love the Desert Sled and feel that it should be left alone…..remember our form follows function opinion?)
Stay tuned dear readers for our second installment of this series where we talk about WHY these measurements are mostly important BUT sometimes meaningless depending on the size you are and your riding intentions. We will also mention some great "Ups and Downs" of some very popular Moto-brands and how some (Such as KTM) are meeting the size and riding demands of their customers. HEY! That's you and me!
See you soon or maybe on the road!