MOTOSQUIRREL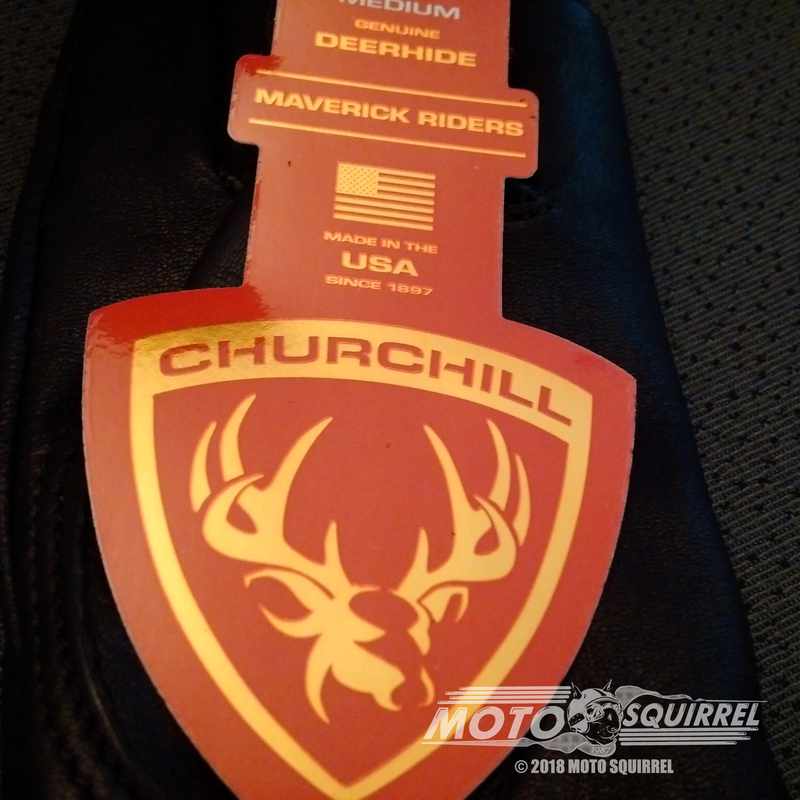 4/30/2018-
Maverick CS Classic Short Wrist
Deerskin Leather Glove $58.95
Do YOU want Awesome that FITS??- I
know that I do!
Can a pair of motorcycle gloves mean the difference between riding and NOT riding? Can moto gloves (or boots for that matter) be the most important or close to the most important gear (Besides a shell on your head) that you wear while riding?
I am here to relay to you a resounding: Yes! Just as no two competing manufacturers gloves are constructed or presented the same, so too are no two pairs of human hands that are born identical.
Manufacturers of all motorcycle clothing do their best (in most cases) to "Shoot for the middle" when it comes to pleasing as many riders as possible. Fitment, comfort, protection and style must be made to suit the most average proportions when it comes to the moto-clothing market.
But- What do you do if you are someone like myself that has "Odd" or unusually proportioned, shaped, possibly injured, uneven hands- or even someone who is missing a digit or two?
What if, due to dermal
sensitivities or outright allergies
to many manufactured and not
properly tested materials, you are
limited to just a few materials
available to wear?
It is time to start thinking outside
the box, or in the case of the
Long-Lived classically crafted
glove manufacturer Churchill
Gloves of Washington State, it is
time to get back to the "Box" or basic!
Having been born with and growing very short-fingered, flatter digits, wide palmed and short wristed hand parts, it has always been very difficult for me to find gloves that will fit or conform to my hands. (If you don't suffer from outrageous proportions- I envy you!).
Involving my appendages in many hobbies and adorning my hands with the proper equipment is not always a problem and often I can make-do with a little extra glove finger hanging over my pinky, thumb, index or all fingers!
But what about motorcycling? Well, it seems that so many gloves I try or see reviewed suffer from what I call "Material Bloat". Before we go further to define this term, I want to communicate something more perfectly clear: when it comes to moto gloves and safety- you must wear as much protection as you can, but still ambulate, move fingers freely, operate controls and, hopefully, withstand a certain amount of accidents. Pay attention to that last part: "But still ambulate, move fingers freely, operate controls and, hopefully, withstand a certain amount of accidents"!.
Here lies the contradiction: You cannot operate your motorcycle if your hands are so proportioned (Small, Large, Irregular) as to only allow the extra and unfitting swaths of material of a terrible fitting glove to hang, bunch up, block or otherwise slip when operating a throttle or clutch. Much of riding resides in the ability to finely and precisely position your fingers so as to manipulate these controls and often VERY quickly, or subtly.
In my own case, so many gloves (Even the ones that promise a flatter inner palm face) bunch up increasingly as I ride. I get hot spots, grips don't spin as material gets caught and feel is non-existent. Often times I find myself squeezing with pain a front brake as I try to slip a throttle closed. When you have small hands especially, or wide short fingers in my case, there is nowhere for the glove material to go except for bunching up in a circle surrounding your controls. Add to this a pair that also doesn't fit and instead you have gloves that hang out all over, or in the case of large hands, cutting off all circulation in a cold season…..well you could lose a digit from frost bite!
Technology is always changing,
therefore we must keep open, keep our
awareness heads on a swivel and be
willing to try new products when they
come out. This Moto-Blogger is well
aware of some of the finest examples of
GP racing gloves, ADV gloves,
Streetfighter gloves and on-and-on with
so many companies offering the latest in exotic materials, high-end knuckle
protection and even thermal heating or
ventilation. But all of these fine and evolving products mean nothing if they
do not FIT you, cause pain, disrupt your use of control areas or are unbearable due to material use.
There are so many gloves that I covet, but alas, will never be able to wear!
Did I mention that I am also allergic to spandex or polyester? Hmmm…you can see my choices narrowing before your eyes!
Enter Churchill glove company. For many years I have been wearing deerskin gloves for both driving and multi-purpose uses. Even Winter hiking. Deerskin is an exceptional natural leather that is amazingly strong, yet supple, form fitting (Will conform to your individual contours if fitment is right), stretches a bit where needed, and even has a strange way of being warm in slightly colder weather (About 50 degrees with less wind) and is not as hot as you would think up till about 80 degree heat. It resists abrasion well and can act as a second skin when coming in contact with rough materials at lower speeds or accidently touching hot motorparts (Think side-of-the-road repairs). It also provides great dexterity and a unique ability to let you know something is cold or hot to the touch without melting or stifinning up as many man-made materials do.
When I was fed up early this Spring while wearing a pair of Winter rated gloves (Bunching up once again and almost causing a bumper buck on my part), a friend of mine who has been riding ions longer than myself pulled out an OLD pair of Churchill gloves that were black in color and technically a size SMALLER than I would normally wear. Here's the catch. This pair was over twenty years old! Although I would never recommend wearing a pair of anything protective that was this old, I couldn't help but marvel at their hardy construction, supple look and feel as well as the way they actually stretched to conform and fit on my odd paws!
My first question was: "What the heck are these!". My friend proceeded to tell me of the great history of this unique American made leather company that is about a hundred and twenty years old!- That is a long time!
Located in Centralia Washington, Churchill glove company has been a small-to-mid sized business run by a dedicated crew of craftspeople and employees who create an exceptional product here in good Ol' USA. Yep, I repeat, right here in the States! They have persevered through economic and fashion trends and family business generations to provide a product without equal: A mostly hand crafted, patterned, sewn, stretched, cured and altered to fit or customized (More on this later!) pair of leather deerskin gloves.
Although this great little company has you covered for Winter, Spring and even Summer vented gloves, do not expect a massive selection of styles. They specialize in form following function. The "Maverick" glove line, as example is a simple all-purpose two to three season short glove for those looking for simplicity, good fit and no bobbles and bobs that get in the way of riding. They have longer gauntlet options, Poron palm protection options, Thinsulate™ lined winter offerings and……wait for it……..dual or multi color options!
This is where things get interesting. Because this company is small (Not some company with a fancy name but basically being designed and run in Asia), they have and welcome the idea of working with you in creating the pair of gloves that you want (Within reason of course). You say you want a dark English Green palm side, but black leather throughout?- No Problem! Would you like an extra long gauntlet type made with or without straps for a better Harley look- No problem! Do you have special needs when it comes to missing a few digits, unusual hands, or even perhaps you want to create a group of gloves with an insignia or initials embossed in the leather- No Problem! Special perforations on the back of the hand?- No Problem!
So……how do you get a pair of these great, simple, get-the-job-done gloves?
You do what I did. I measured my hands according to the Churchill online guide, filled out their order form, specified the color and left a note as to how I was going to use my gloves etc.
But! Don't do what I did! Like so many other reviewers/consumers out there, I waited impatiently for my gloves to arrive, like Yesterday! Unlike most of our spoiled online transactions which are purchased through massive internet vendors and have a relationship with distribution sites and air-carriers, Churchill gloves are special and made-to-order. There is a wait time of about two to three weeks prior to your new gloves finding their new home. Any customization should take longer.
Pricing (In this reviewers opinion), is exceptional for an American made product, of fine materials, crafted to suit and are one-of-a-kind. Maverick gloves will run you about 58.00 to 98.00 dollars U.S. . Special features such as straps etc. add to the final price. They also ship throughout the world.
Upon receiving my new Churchill Mavericks I was, at first, underwhelmed by the package! Being trained at getting everything in oversized boxes by the worlds largest retailer(s), I was a bit surprised to find just a simple manila envelope handed to me by my postal person. Missing inside was the typical flashy retailer hook-hole display packaging (You won't find Churchill at your typical Moto-Big-Box store but only at finer retailers) and added nonsense that makes you feel that your product may have had many stops, sniffs or perusals by third parties or strange returns etc.
What you DO get is simply a fine pair of black deerskin gloves sealed within a very tough see-thru plastic bag.
When I greedily opened the bag, put the right side glove on, closed the strap and clasped my hand, what I felt was amazing! Nothing ever, out-of-the box fit my hand as this glove did. I knew these gloves were ready to ride!
Addendum: Material Bloat (According to MOTOSQUIRREL): When a manufacturer unnecessarily adds excessive material, additions, parts, colors, packaging, decorations, graphics or proportions that are way beyond the intended purpose of design in order to capture the attention of the consumer or retail buyer to boost sales.
Look for a follow-up review on these fantastic Maverick gloves this Summer!
Purchasing via online retailers at:
Amazon: Churchill Classic Short Wrist Deerskin Motorcycle Gloves Made in America Black (Medium)
by Churchill Classic Short Wrist
JRCglove.com: Maverick CS Classic Short Wrist Deerskin Leather Glove
https://jrcglove.com/product/CS.html
Other options in this line-up by Churchill Gloves include:
Maverick CSA Classic Short Wrist Vented Back
Price: $60.95
Maverick CSPA Classic Short Wrist Padded Palm Vented Back
Price: $82.95
Maverick C Classic Deerskin Leather Glove. Arnold Schwarzenegger wore this style in the movie T3.
Price: $58.95
Maverick CA Classic Standard Wrist Vented
Price: $60.95
Maverick CPA Classic Standard Wrist Padded Palm Vented Back
Price: $82.95
Maverick CP Classic Poron™ Padded Palm
Price: $80.95
Maverick CT Classic 100 gram Thinsulate™ Insulation
Price: $75.95
Maverick CTW Classic 100 gram Thinsulate™ with Sympatex Insert
Price: $98.95
CVPTW PADDED PALM | 100 gramsTHINSULATE | SYMPATEX
Price: $118.95