MOTSQUIRREL 7/11/2018-
SMARTYPANTS bar and bistro (Renton and Georgetown locations WA

Do Ya' want some yummy in your tummy after some room-a-zoom ZOOMY?
What makes a GREAT motorcycle food stop? Well, everyone has their own idea of what makes for a memorable place to stop with fellow riders. We, here at Motosquirrel, know that there isn't one specific formula which makes any single bike stop better than all the others.
Formula is also a word that often denotes a familiar or schemed set of ingredients meant to accomplish a certain goal. Unlike surviving old-time biker haunts, when it comes to Motorcycle rest-stops and the like, it would seem that the ONE type of riders refuge that you would think should and would get especially ignored by many, is the kind of road eatery that has been specifically formulated to attract all kinds of bikers and their families or friends.
This opinion would be, as is the case with Smarty Pants of Georgetown….. entirely wrong!
Smartypants, established 2003,(Gotta love their name and logo) are two sister locations of both bistro bar and small breakfast, lunch or dinner fare restaurants situated in both Burien and Georgetown WA.
The Georgetown location has more recently become a notable gathering place for all things bike and ground zero for local Seattle, Burien, Georgetown and Renton cycle events or rides.
Enter either bistro venue, and you will be instantly amazed (as a rider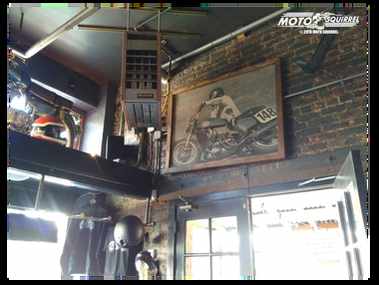 of course) at all of the hanging motorcycling photos,
posters, memorabilia and all things motorbike! Why yes, even an actual bike or two and collected motor parts the not-so keen eyed cannot miss!
Perhaps you'd rather DIE than miss Saturday's Moto GP race via the big LED screen at home while you're out with friends? Not a problem! Smartypants is always tuned in to internationally followed as well as locally
televised races. If there aren't any races, it is easy to get caught up in a motorcycle movie plot or two playing on the tele as well as music that always fits the riding
atmosphere.
We know, we know! You say that the interior is worth a look, but what about the food? This place specializes in highly satisfying hot food, sandwiches and burgers that feel like the most fun hamburger stand plus sandwich shop creations on steroids! A playful menu which includes the names of meals that will make you smile and also satisfy your tummy with such names as: "Falcone", "Ms. Piggy", "Thunderbird" as well as "Pit Boss", to make your mouth water- especially after a long cold or hot ride! Combine several tasty creations with a full bar plus hot coffee with breakfasts served late as brunch on weekends and you have not just an enthusiasts place to hang out in, but also, a great place to meet friends or as a beginning or end to a memorable ride. In a hurry?- Most of the Smartypants menu is also available To Go!
The coolest thing about both Smartypants locations is that they smoothly change into night-time rider haunts with full bar and seating with plenty of dark places to have intimate or hardy conversations with friends without ever feeling intimidating! It is not uncommon to catch a Moto-Bingo night. Bring on the food prizes and this Motosquirrel WILL BE PLAYING!
In Motosquirrels opinon, what makes both of these locations future iconic moto-stop standards that we will remember for many decades to come (And, perhaps, has helped Smartypants to survive almost two decades of local and national economic turmoil) is not the motorcycling nostalgia, photos, T.V. monitors or all the past, current or future riding events that begin or end there. It is, however, the fun attitudes as well as the great service that Smartypants servers, bar staff and relaxed atmosphere that encourages you to park your bikes out front and your beers on the table! Sit a while, order some food, catch the races on T.V. and grab a Smartypants bumper sticker on the way out……you're gonna want to let others know where to see you next time! Ride your bike to Smartypants wear your Smartysmile! We will see you there!
Many Cheers!- Motosquirrel
***All Graphics, Products or Promotional Materials are the sole property of SmartyPants Restaurants. This is an unpaid review and not in anyway legally connected to SmartyPants it's employees, associates or representatives.