11/25/19
You got your new boots- check! You got your new riding Jacket, gloves and pants- check, check and…check!
Got your helmet? Check!
​Of course you have every cozy protective gear for your bike but, perhaps, there remains once last problem. That problem is the lack of grip that your lower body and/or upper legs have in their connection to your gas tank and bike control.
We cut the whole adhesive backing panel out in order to get a feel for the position of the grip placement etc. Get a good idea of placement and work with some water based markers or paint tape etc.
Shut-the-*-UP! You reply so smugly to our wonderful Squirrel staff. "How Insulting!" you exclaim when we suggest a product that has been around for quite some time! This is not NEW…(Say it like Noowha! CA style- sorry CA!) you think, as a matter of fact Stomp Grip seems to go in and out of trend in the Motoworld all the time. There are plenty of products that have mimicked or "Aped" this product since coming out on the scene years ago.
There are many motorcycle tank protection products made of various plastics, kevlars, carbon and other grippy or protective materials to choose from. But not many that succeed in protecting your bike, giving you grip around the tank (Not just for racing- we'll discuss further down) AND also while reducing minute vibrations in a steel tank if your bike suffers from higher frequency shaky shake!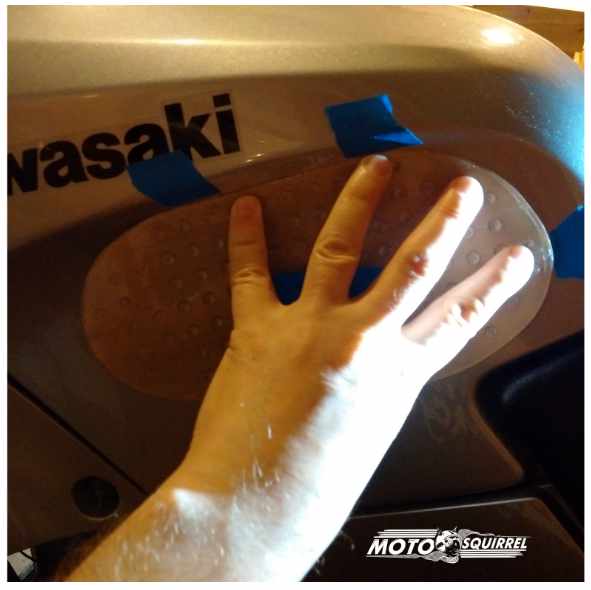 Prior to peeling, you can re-draw and cut down the pattern(s) to the size or shape that is best for your bike and usage. If you are not so visually acute- have someone else take a look. Remember that these clear examples won't look tan!
For many of you new riders out there or experienced riders who have never considered StompGrip type(s) of covering on your equipment before, let us explain briefly and generally why and how it is and CAN be used as hinted above.
In a forever quest by racers of the GP and sport variety to give themselves a better connection to their bikes as they make sharp bends, weighting and unweighting the moto, as well as countersteering and braking- the quest is realized when they have found a product or combination of products that allows a grabbing of the tank with their legs.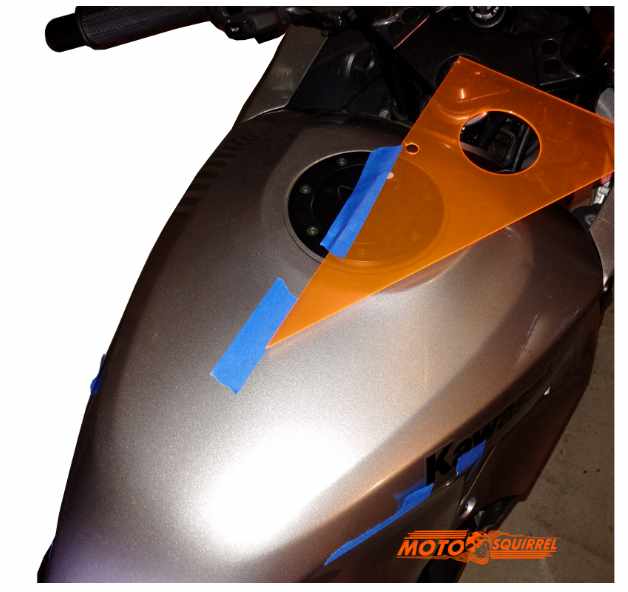 YOU don't have to get as precise as we did here….! Heck- We didn't have to get as precise as we did here!
Grabbing the tank with both legs allows the rider to have a more loose and controlled steering grip in the front without accidental whiskey throttle etc. When a rider can grip the tank beneath him/her there is an infinite possibility of body position fore and aft, hanging off angles, leg down without slipping and less muscle aches and calorie burn from just trying to hold on!
Updates in OUR usage:
Sure, having more grip on your sport bike is cool, sounds cool, looks cool and you know …is COOL. With the above product usage definition there is no need to look further right? Wrong!
StompGrip (And any close wannabe's- Just buy the REAL thing darn-it!) have many more benefits than just rider control!
Here are a few to consider:
Application: This product is easy to apply (As long as you are handy!) and….wait for it…. easy to remove (although, it is NOT reusable- just impermanent). It allows you to cut it to fit the contours to your liking. Even after ordering a fit for your bike, it allows you to further customize the product as you need! The harder plastic products are a bit more tricky!
We found that it provides an extra dampening quality for small vibrations versus holding onto a naked tank (YMMV).
The front or middle most Grip piece section (Which can be purchased separately) acts as a protector AS WELL as a grip surface. Straight on use will obviously hurt the private places…but, when hanging off the side, this middle part will grab the inside of the higher leg!
There is nothing that says you can't use this product entirely or in part on other outer panels of your bike either for protection OR for extra grip on an Enduro or Dual-Sport for leg grib when standing or wheelies etc.
Natural tank bag protection! Especially if you do not use a lock-in Givi type unit; it will keep your regular tank pack from rubbing etc.
Unmentioned protection! Plenty of riders forget small items, keys, bike parts, crush washers (Happened to US) inside their rider pants only to dig, gouge or scratch your tank plus burn the same in your gear. Not only will it NOT happen with StompGrip but it will remind you right away when there is extra grab and you will feel it readily.
Moving your bike or when, on occasion, you find that you need to lean it against you as you re-position or move the bike while standing beside it- is made a lot easier!
General vandalism protection (More for urban dwellers). Yes- If someone (SomeThing) wants to do damage to your bike, THEY WILL. But, having this protection just cuts down on the possibility.
Pay attention Tour Guides!: When fitting or having people of all types and sizes riding on your bikes or if you have the opportunity to ride a bike with StompGrip applied, there is a (in our opinion) better chance that a slightly larger rider or smaller rider will be able to grip the tank better and have better control of the Motorcycle. This is comforting to all parties- add in the protection factor…..the dropping the bike factor…..!!
So far no fading or color variation of original paint as per the parts exposed or NOT exposed with StompGrip (Clear Variant utilized)(YMMV). This is awesome!
Tank less cold to the touch in cold weather. Seems like no big deal….but…..wrap your legs around StompGrip or cold steel in Winter!
If you choose the clear color variant you barely change the look of the bike. If you choose black etc. you can change the look in some very cool and custom cut-out ways.
Aids in taking pressure off your wrists. We cannot promise that this experience will find you the way it did us. We can say that if your inner legs are in shape, you are willing to practice and trust your legs plus middle body core….your riding WILL transform!!
All apologies for the fuzzy photo here! You get the idea!
StompGrip- The Good, the bad and the Ugly:
Well, we already raved about this product above- so we will list some of the "Ugly"…
The Ugly:
Be sure you measure (Twice) and get your initial application the way you want to. There is no going back unless you bought two kits!
Our clear kit takes on the purplish color of our wannabe/faded bike cover. This is NOT permanent and can be wiped off.
Our clear variant has taken on a slightly yellowish hue over two and a half seasons. (We don't know a product that is plastic and clear that doesn't yellow a bit over time).
The very outer edge of this product will get slightly gooberish as it expands and contracts in the hotter season. This is NOT a big deal and can be pushed off with a fingernail, eraser or even a credit card (If bike is not valueable). ​
We do not recommend this product on highly valuable, classic or collectible motorcycles unless replacing an authentic race bike that had them initially installed.
There is just not enough information on the long term effects to paint, fading, hardening or chem adhesive effects to old paint etc.
We would not recommend this protection for use on Polyethylene or "Plastic" tanks.
Stompgrip instructions recommend using a lower temp heat gun to both heat the tank (or body) surface prior to adhesion. They recommend reheating and pressing as well while working the material flat and you can still pull the sides a bit while hot etc. We found a pro-grade hair dryer worked fine!
Disclaimer: Please consult a professional before daring to do anything whatsoever! Even using the bathroom!- Ha!
The Good: STOMPGRIP!
We at Motosquirrel recommend this product highly!
Via Revzilla: Universal Streetbike Clear Variant (Will take you to the Rev page so watch out!)
Pricing: About $47.00 U.S. (Worth every penny in our book!)